PLEASE E MAIL OUR SECRETARY Richard Houghton VIA THE CONTACT US SECTION ON THE HOME PAGE ABOUT OUR ARCHIVES 
THANK YOU 
Ensuring local military heritage is not forgotten.
·
 Memorial Commemoration!  One has to be thankful they are after all.
The issue reflects the 2/5th Lancashire Fusliers 164 Bde
55th West Lancashire Divison. Battle of Cambrai 20th Nov 1917.
The battalion went into action 20th November 1917 objective 'The Knoll' nr Gillemont Farm, adjacent the village of Lempire south of Cambrai.  As CWWG acknowledge almost 50 casualties from this  battalion's action hath no known grave. These men ought to have been commemorated upon the Louveral Memorial on the Route de National between Cambrai & Bapaume the designated memorial to the missing from that first significant action of Tank Warfare Battle OF Cambrai 20th November 1917- 6th December 1917. Regretably those men, in error, were placed upon the Thiepval Memorial, Somme. This very distinctive memorial is designated for those 'missing' on The Somme between October 1915 and March 20th 1918. And so for over eighty years that has remained, as the due acknowledement below confirms.
Had the action at Lempire taken place in May 1918 then that commemoration would have been acutely appropiate, as Lempire is located in the Somme Region (just) a mere few kilometeres from the 'regional border' The St Quentin Canal. It is sginificant that men missing  killed a few yards from Gillemont Farm not more than 10 days after in the German counter attack in which the 55th Divison were to take a heavy toll in loss of life, are rightly named at 'Louveral'
The cost of renaming and possible restructering of masonry is not cost worthy as CWWG acknowledge. But non the less the acknowledgment below is most appreciated.
 ·
Grave marker / Divisonal HQ enamelled motiff this enameld marker was the 55th Divisonal HQ's sign often also found on graves of the Divsonal 'fallen'
The Red Rose emblem remained the divsional motiff during two world wars worn on battle dress / blouse on the shoulders.
The 'Red Rose'  Proud Heriatge 'They Win or Die'
Our Ref: 79911
Date: 28 March 2013
Dear Mr Houghton
Thank you for your email of 20th February 2013.
Please accept our apology for the delay of our reply. This is due to the large volume of correspondence we are currently receiving.
We acknowledge your comments concerning the fact that casualties of the 2nd/5th Bn Lancashire Fusiliers are commemorated on the Thiepval Memorial to the missing as opposed to the Cambrai Memorial in Louverval, the area where their battalion were in action at the time of their death. Our own research supports your understanding and we have found that 48 casualties from the 2nd/5th Bn Lancashire Fusiliers who fell on 20th November 1917 are similarly commemorated on the memorial at Thiepval.
We agree therefore that on the face of it, an error of judgement may have occurred when deciding which memorial upon which to commemorate these casualties was made but it may also have been the case that insufficient evidence was available at the time of commemoration to make a correct decision. However, the most important thing is that they are commemorated.
We have also given thought to whether changes should now be made to these commemorations which have stood for well over half a century. We conclude however that it is not appropriate to do so after so many years, taking into account that the families and decedents of the casualties affected may have been paying their respects to their relatives at the Thiepval Memorial for so long. Also, to erase inscriptions from one memorial to add to another is very expensive and would be likely to result in the replacement of entire panels at both memorials.
We trust this is satisfactory to your enquiry please do not hesitate to contact us again if you require any further assistance.
Yours sincerely
Argyro Francis (Mrs)
Enquiries Administrator
Commonwealth War Graves Commission
2 Marlow Road, Maidenhead, Berkshire, SL6 7DX, United Kingdom
Tel: +44 (0) 1628 507200 | Facsimile: +44 (0) 1628 771208 | Website: www.cwgc.org
Additional research identifies that the following are also listed on Thiepval
31 other ranks & 1 officer of the Kings Own Royal Lancaster Regt; 164 Bde.
24 other ranks & 1 officer 8th ( Irish) Kings Liverpool Regt; 164 Bde.
1 other rank 5th Kings Liverpool Regt; 165 Bde.
3 other ranks  4th Loyal North Lancashire. 164 Bde
It would seem that the 55th Division are  the only affected Division, as for example 12th Kings Regt / 61st Bde / 12 Div who were also fighting South  of Cambrai opposite  Banteux on that date are named on the Louveral Memorial dedicted to the missing fom The Battle Of Cambrai. The 12th Division was on the immediate left flank of 55th.
To add further to the confusion of memoria Louveral / Thiepval. 'Searching'  Cambrai Louveral Memorial will reveal the name of 2/Lt. F. A. Seddon 1/8th (Irish) Kings Liverpool Regt. Alone he is correctly commemorated at Louveral, whilst the remainder of his Battalion alongside those others of 55th Divison find themselves 'deported' to Thiepval.
It does reflect that The Somme Region in which the village of Lempire the '55th' where fighting on the 20th November has erroneously been the determining factor for said memorial commemoration and not the designated 'battle' memorial of  Louveral.
This additional information has again been brought to the attention of CWWG.
···
"The Palembang Nine"
Palembang is the capital city of South Sumatra now Indonesia  (see map)
The year is 1945 just five days after VJ Day 15th August 1945, many service personnel and a considerable number of prisoners of war were celebrating freedom, there were some who awaited another fate. This is an account of courage & injustice combined with appalling treatment of nine British Servicemen at the hands of a beaten enemy, already well known for its inhuman disposition towards mankind, i refer to the Japanese.
By mutual association (Royal Navy Air Service) if nothing else, I, as joint founder along with (Lawrence Critchley) of our heritage society in tandem with the formation of this website, I am truly humbled to recount the story below. The fact that the squadrons 849 / 1833  did not serve at RNAS Ringtail ( Burscough) has little bearing on my inclusion of this emotive and tragic account. They were indeed serving in the same theatre of war South East Asia, waging war on the Japanese, they shared at some point the same 'Capital Ships' of the Fleet as our squadrons those being Indomitable, Illustrious, Victorious, they shared the same kindred spirit of 'Navy Aircrews'  and a  common association of countries of birth, New Zealand / United Kingdom.
Here in Burscough we have graves of New Zealanders at St John the Baptist Church, those graves are  proudly shown on our website. Irrespective of the fact that 849 / 1833 never vacated the Bull and Dog Inn ( Watering Hole for Ringtail) the nine mentioned here could easily have been from one of the Ringtail Squadrons. Therefeore they are  very much 'brothers in arms'
The dates of death attributed by Commonwealth War Graves are those as given to NOK as part of the 'cover up' the story below has been accredited as factual thanks to unstinting endeavor primarily by Mavis Mcrea with significant input from Jack Edwards & N E Richardson to them is owed a debt of gratitude in particular to Mavis who fought for justice on behalf of a brave man, her beloved husband.
•
"We made an attack against the oil refineries at Palembang in Sumatra: our squadron was escorting some of the bombers & Jack (Haberfield's nickname) was leading a section. Over the target we were attacked by Japanese fighters and a fierce fight developed, during which it was on possible to see what was happening in a small part of the sky & there were aeroplanes everywhere. Jack's wingman saw him attack an enemy fighter and followed it down in a steep, fast dive, then lost sight of him. He was not seen again after that. Several pilots reported having seen aircraft crash into the ground, but none could say with certainty whether they were our own or the enemy's."
Commanding Officer Shotton 1839 Squadron.
The post war facts
The oil refineries in Palembang was a critical source of oil for the Japanese, which became the reason why the Fleet had targeted Palembang. Unfortunately the raid was at the expense of the nine men who, like Haberfield, had gone missing.
The whereabouts of the nine men had remained unknown throughout the war. It was only after the war ended, that British authorities began to investigate the disappearance of the men in 1946.
Investigations began in Palembang; where the men were last seen. It was discovered that the men were kept prisoners in Palembang Prison until February 1945, when they were transferred to Singapore and housed in Outram Gaol.
In Singapore, Japanese Major Kataoka Toshio informed British investigating officials that the men had been shipped to Japan for interrogations but never made it as the ships were attacked and sunk by Allied bombings in March 1945. The investigating officer believed that he was telling the truth but it was revealed later by General Atauka, Chief of the Juridical Department for the 7th Army, that the nine men were illegally executed after the war on 15th August 1945.
Upon discovering this, investigating officials were prepared to arrest Major Toshio and Captain Okeda (the officials responsible for the men's execution). However before that could have been done, both men committed suicide. The following was written by Major Toshio before he committed suicide:

•
In everlasting  memory of the Palembang Nine .
'May their names live for evermore'
·
The Palambang Nine.
Lt. John Kerle Tipaho Haberfield – Pilot from 1839 Fighter Squadron (HMS Indomitable)
Rank:  Lieutenant; Dod 31/07/1945. Age:26 Royal New Zealand Naval Volunteer Reserve. NEW ZEALAND NAVAL MEMORIAL, DEVONPORT, AUCKLAND
Son of William Isaac and Frances Mercy Haberfield (nee Bailey), of Greenhills, Southland. New Zealand.
•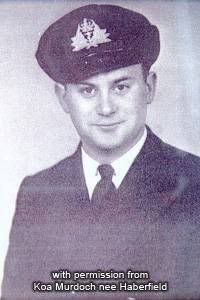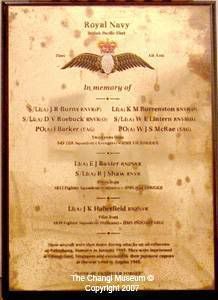 Lieutenant John Haberfield of the HMS Indomitable & The Royal Navy British Pacific Fleet Plaque
•.
 Lt. Evan John Baxter – Pilot from 1833 Fighter Squadron (HMS Illustrious)
Rank: Lieutenant; Dod 31/07/1945. Age:23.
Royal New Zealand Naval Volunteer Reserve.
NEW ZEALAND NAVAL MEMORIAL, DEVONPORT, AUCKLAND.
Son of Joseph John and May Suter Baxter, of Ellerslie, Auckland New Zealand.
•
 S/Lt. Reginald James Shaw – Pilot from 1833 Fighter Squadron (HMS Illustrious)
Rank: Sub-Lieutenant; Dod 31/07/1945. Age:23.
Royal Naval Volunteer Reserve. LEE-ON-SOLENT MEMORIAL.
Son of Lionel John Robert and Edith Edna Shaw, of Dulwich, London.
•
 Lt. Kenneth Morgan Burrenston – Crew from 849 TBR Squadron (HMS Victorious)
Rank: Lieutenant; Dod 31/07/1945.  Royal Naval Volunteer Reserve.
LEE -ON- SOLENT MEMORIAL.
•
 S/Lt. John Robert Burns – Crew from 849 TBR Squadron (HMS Victorious)
Rank: Sub-Lieutenant; Dod 29/01/1945 Age:23. Royal Naval Volunteer Reserve.
LEE ON SOLENT MEMORIAL
Son of John and Olive Burns, of Port Talbot, Glamorgan.
•
 Donald V Roebuck – Crew from 849 TBR Squadron (HMS Victorious)
Rank: Sub-Lieutenant; Dod 30/04/1945 Age:23.
Royal Naval Volunteer Reserve. LEE -ON-SOLENT MEMORIAL
Son of Frank and Doris Mildred Roebuck.
Husband of Constance Mary Roebuck, of Grenoside, Yorkshire.
•
 William Edwin John Lintern – Crew from 849 TBR Squadron (HMS Victorious)
Rank : Sub-Lieutenat; Dod 31/07/1945.  Royal Naval Volunteer Reserve.
LEE-ON-SOLENT MEMORIAL.
•
  Ivor Barker – Crew from 849 TBR Squadron (HMS Victorious)
Rank: PO (Air) No: FAA/FX. 86731. Dod :29/01/1945.
Age:21. Royal Navy
LEE-ON-SOLENT MEMORIAL.
 Son of Henry and Minnie Barker, of  Gleadless, Yorkshire.
 •
 Wiliam James McRae Crew from 849 TBR Squadron (HMS Victorious)
No: FAA/FX. 96155. Rank P.O. ( Air) Dod 31/07/1945. Age:21. Royal Navy.
LEE-ON-SOLENT MEMORIAL.
 Son of Mr & Mrs. William McRae; husband of Joyce Mavis McRae, of York.
•
The account of the Nine Men.
·
·
.In accord with the gentlemans wish I make no reference to the named source of this information, however i know it to be true, that the association with one of those crewmen named above has a personal connection, that supported by the evidence shown confirms it factual. To this gentleman i would like to record  thanks for this story, Norman thank you sincerely.
•
Australian POW captured at New Guinea moments before his execution with a Japanese shin gunto sword.
Richard Houghton, Burscough March 2013.
•